Horoscope for Gemini
5/22 - 2/21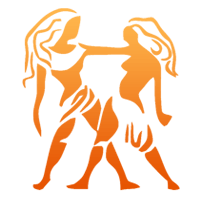 for Monday, September 24, 2018
Ihr Gemini Tageshoroskop für heute:
Enjoy your work
For a long time you have not been so cheerful and in good spirits as you are today. You have amazing charisma and you know how to infect people with your cheerfulness and simply carry them away. Particularly suitable today are visits to friends or relatives who have been somewhat neglected recently. They can certainly not be angry with you with the energy and enthusiasm you are offering. You could achieve a new and more intense friendship level with your loved ones today. We wish you success!
Click on your date of birth and retrieve your personalized horoscope
Zwillinge-Stärken
Neugierig, lebhaft, gewandt, vielseitig, flink
Zwillinge: Zwei Seelen wohnen ach in seiner Brust
Zwillingegeborene repräsentieren in besonderem Maße die Dualität von irdischem Sein auf der einen Seite und spirituellem auf der anderen. Diese Zweiheit besagt jedoch auch, all die Traurigkeit, Verlorenheit und zuweilen große Pein des Daseins auf der Erde kosten zu müssen. Dafür ist man zu anderen Zeiten rundum happy und befindet sich sozusagen "im Himmel".
Die Persönlichkeit

Durchsetzungskraft
Besitzstreben
Kontakt
Familie
Genuss
Pflicht
Liebe
Bindung
Ideale
Ehrgeiz
Originalität
Transzendenz
Mehr von Star-Astrologe Erich Bauer zum
Sternzeichen Gemini
Erhalten Sie ihr persönliches, kostenloses Tages-Horoskop einfach und bequem per Mail!
Jetzt anfordern!
Das Horoskop für weitere Sternzeichen: