Horoscope for Cancer
6/22 - 7/22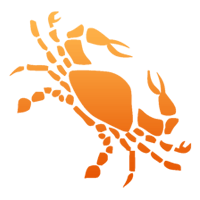 for Wednesday, October 24, 2018
Ihr Cancer Tageshoroskop für heute:
A balanced workday and an exciting private life
You have always been a very sociable person and ready to connect, but today this comes increasingly into play. Your pleasant aura provokes compliments from your counterpart. New friendships are quickly established. Singles will certainly have no problem finding an admirer today. Your charisma benefits from the contentment that you evince today, and your balanced hormones. You understand perfectly how to find a balance between private life and working life. But don't overdo things in your private life, your partner is getting jealous.
Click on your date of birth and retrieve your personalized horoscope
Krebs-Stärken
Gefühlvoll, häuslich, sensibel, fürsorglich, gemütlich
Krebs: Der Seelentaucher
Krebse werden stark vom Unbewussten, Instinkt- und Gefühlshaften bestimmt. Der Mond ist ihr Regent und so, wie dieser Himmelskörper ununterbrochen seine Gestalt verändert, geht es auch bei ihnen auf und ab. Euphorie und Ekstase werden von Endzeitstimmungen abgelöst und auf unerträgliche Schwere folgt die alberne Leichtigkeit des Seins. Ihr Mond verbindet diese Menschen allerdings auch mit einer Quelle unerschöpflicher Kreativität. Wenn sie die richtige Tätigkeit haben, sprudeln Einfälle nur so aus ihnen heraus: geniale, witzige, schöngeistige, banale, herzergreifende, tröstende.
Die Persönlichkeit

Durchsetzungskraft
Besitzstreben
Kontakt
Familie
Genuss
Pflicht
Liebe
Bindung
Ideale
Ehrgeiz
Originalität
Transzendenz
Mehr von Star-Astrologe Erich Bauer zum
Sternzeichen Cancer
Erhalten Sie ihr persönliches, kostenloses Tages-Horoskop einfach und bequem per Mail!
Jetzt anfordern!
Das Horoskop für weitere Sternzeichen: