Horoscope for Cancer
6/22 - 7/22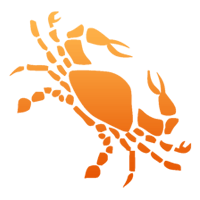 for Monday, December 11, 2017
Receive your free personalized, horoscope delivered straight to your inbox every day!
Request now!
Social needs
Today you will encounter a variety of people and your social conscience will be put on trial. Adaptability is now the buzzword and you understand really well how to respond individually to people. Others value your opinion. Do not exploit the situation and keep your feet on the ground.
Click on your date of birth and retrieve your personalized horoscope
Cancers are particularly family-oriented. This Water sign is especially sensitive and empathetic. As their namesake, the crab, implies, Cancer often reveal themselves to have a hard shellsand a soft core. Associal and engaging people, Cancerslike to help others whenever they can. They are very sympathetic to others, but are also sensitive, and don't let anyone get close to them very easily. Family comes first for the Cancer, and they would do anything to maintain harmony at home. Happiness for a Cancer means security and a fulfilling family life. They will fight tenaciously for any friendship, and they attach great importance to creating a home where they feel comfortable. When it comes to love, Cancersare a loyal and loving partner, who are looking for a long-term relationship. They can be both romantic and protective, and are faithful to their partner. Cancers are typically caring, romantic, and humorous, nurturing, intuitive, persistent, efficient and determined.